A.J. Brown's 'Making Love Together' has been a firm favourite of mine since I first heard it played in the mid eighties. The original pressing came out in 1980 on A.J.'s Maestro label and received a number of pressings during the decade of release. A.J. is mainly recognised for his reggae output, but with 'Making Love Together' he perfects the soulful side of reggae with distinction. A.J. is currently performing as lead singer with Third World. We have re-mastered 'Making Love Together' from the original tapes and for the first time on vinyl we have made the instrumental version available.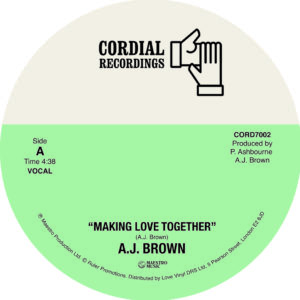 Interview
You're originally from Montego Bay?
Yes I am. I was born in Montego Bay, I went to school there, I grew up there and I started my entertainment career there. I'm a product of the all-inclusive hotels.
What's does that mean?
The all-inclusive hotels is an off shoot of the Club Med type hotel approach where everything is paid up front and when you go in you enjoy yourself and have fun. You don't need any money when you get to the hotel, like Sandells, Couples and Jewels. All those hotels were all-inclusive.
Did you start singing in the hotels in the 70s?
Yes pretty much that's when I started. The songs that you have are the beginning of my career really. Those are the first couple of songs that I recorded. That's a good mark of where and when I started.
How did you did end up in a studio? Did you or did somebody else pay for the session?
When I started working on my own and performing I realised that I needed to do recordings because I was not a product of the inner city of Kingston so the recording opportunities were not frequent so I had to pay my own way in producing my own albums. I got help along the way with producers like Peter Ashbourne and other producers.
Were 'Making Love Together' & 'Get Up Chant' written before you went into the studio?
Yes, 'Making Love Together' was the first song I wrote, whilst 'Get Up Chant' was written by my friend Dave Richards. So when we went to Kingston to get it recorded. I knew Peter Ashbourne from doing live shows. He used to back me, arrange my shows and things like that. That's when I asked him to produce and to arrange my song 'Making Love Together.'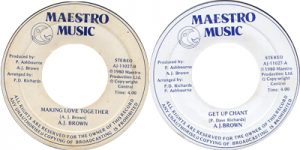 Had you been performing 'Making Love Together' in your live act?
Yes I do, but not as often though because it is not as popular in Jamaica as it is in England really.
So to confirm that Maestro Music is your own label?
Maestro Music is the label that I used when I was younger and then I changed it Browncat Records.
So Maestro Music was self-financed. Do you remember how many copies you pressed up of the first pressing?
It can't be than maybe a 100 really or maybe 200. Whatever the minimum amount was. I remember sending them out to radio station to get it played. It didn't do much for me in terms of returns. It was good to have it as a recording for me to say "yes I did that."
There's been around 4 different pressings of it. Were you involved in those including the one with the picture sleeve?
Yes I was involved in them but I'd have to see the picture sleeve again to remind myself. I remember that I was at a hotel and a guest asked me if I was the particular singer of that song. I said "yes." He was from England and he ended up arranging for me to allow him to press some copies. I think the song was submitted to Sonic Sounds or one of those recording companies that did vinyl. They may have been the ones that pressed the record and sent it abroad.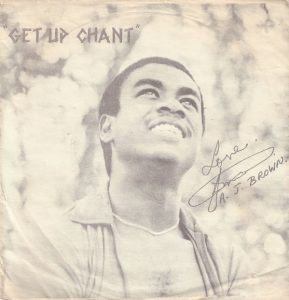 Your next single came out on and Sonic Sounds released the third one?
You know more than I do. It would be great if you could send me that information because what happens to be honest is that record companies in Jamaica they do things that……I'm trying to find the right words……not to make them look unprofessional, but they will press a song and then you it's not doing so well but they've released it in different territories and you don't know that it's out. That may have been the problem with this particular release. I'll give you an example I did some recordings with a gentleman called Bobby Digital, you may know him Brick Wall and Digital B. Some years passed and I get a call from some sound system operator from Europe that they would like a dubplate of the song. I did not know that the song was out. He had to send me the song and send me the rhythm so that is an example of record companies being unscrupulous in their business dealings. I have not gotten much in the way of royalties for some of those songs. Those are the things I'm looking to minimise.
You continued working in the hotels, whilst you were releasing singles and albums on your own label and other labels, when was the first time that you came abroad to perform?
I think the first time if I'm not mistaken was when I won a contest to go to tour Germany, which I think was for six weeks. It was a great experience. We did 4, 5 or 6 cities including Cologne, Frankfurt, Berlin, wow it was such a long time ago I've forgotten some cities but it was an experience that I will always remember.
Do you remember what year that was?
I think it was in the 70s, no, it was in the eighties. I think it was around '84.
From that experience you got the bug to perform more overseas?
After that I started recording more. I executive produced my first album which is 'Love People.' Most of my albums I am the executive producer in order to take care of the recording aspect of my career. I did most of my albums right up until my sixth or seventh album where I was commissioned to do that album. Most of my albums I spent my own money to do them. When it came to the last album 'All Kinds Of People.'  There was an album produced by Barry O'Hare, which were mostly his songs and his productions where I wrote the lyrics for his rhythms and then I spent money on getting the album out. That's how it's been for me during my recording career.
After the first tour of Germany do you remember when you next came back to Europe? Have you performed in the UK as AJ Brown?
Yes I did when I was invited to do a couple of shows, wow it's been quite a long time, but I think I performed in London, but then there was another city I performed in….
…was it Manchester or Birmingham?
One of those cities sound familiar. It's been while.
When did you team up with Third World?
It's been around 3 years now. I was invited in 2012 to start doing shows here and there, but then it was 2013 when I was invited to do a tour of Europe. We went to Belgium, we went to Spain, to Poland, to Germany. We did a lot of major shows such as Woodstock in Poland and One Love in Germany. I can't remember all the names of the festivals but there was at least 5 or 6 countries that we ended up performing in. We ended up in Rotterdam.
So you've been performing with Third World since 2012 and 2013 fully!
When Bunny Rugs passed on I became a full time member. The European tour in 2013 was when Bunny couldn't travel long distance and by February 2014 he had passed on, so they asked me to stay on if I wished and I felt that it was a good fit. So I stayed on and I've been the lead man ever since. We're in the studios now working on an album with Damian Marley. We released a single 'YimMasGan (Let Him Be Praised),' which is a cover by the Abysinnians. We re-did it, but we're doing original songs now. I have at least 2 originals that I wrote which are on the album and I've been core writing with the rest of the group. We've pretty much completed about 8 songs so far and we still have others that we're working on to finish the album with. Hopefully it will be ready for release at some time this year. We've also invited other acts to be part of the album to do a cameo thing you know, such as J Boog's from Hawaii, who's very popular with the Hawaiian and Polynesian market. He's doing an appearance on one of the songs. Damian has recorded a song that will be on the album as well. We're inviting other acts from Africa to be part of the album.
How long have Third World been around? 40 years!
It's going on 43 years now. It's a solid legacy and its part of the fabric of Jamaican music. It's nice to be in this position.
http://www.thirdworldband.com
Are you still writing for yourself?
Yes I'm still writing and producing my own originals. I'm working with other producers as well. Since I've been part of the group I've been getting other invitations to do singles and work with other producers. I can think of 4 or 5 producers that I've worked with and are getting ready to release. I'm also re-releasing my original albums that will be coming out.
Roual Galloway April 2017