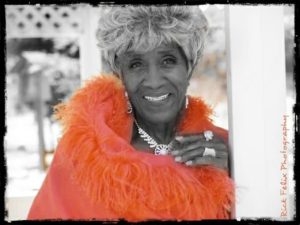 Where are you from originally Irene?
We call it "Little" Washington, Pennsylvania. About 20 miles from Pittsburgh.
Was that where you met Chuck?
Yes, we met there in 1951.
Were you both performers at that time?
Chuck was performing a lot because he had the best band, as they said, in Pa. at that time.
What was his band called?
Just Chuck Edwards…. The Chuck Edwards Band
When did you first start working together as performers?
It was off and on at that time. I started having children so I couldn't go out all the time. I felt it was my duty to stay home and take care of my children so that's what I did. Sometimes he'd be playing 6 nights a week, and I couldn't go with him all the time. So I stayed home to take care of my children to give them the right direction. I was there with them all the time.
During those years was Chuck just performing in Pa or did he go outside of the state?
He mainly performed in Pa but he also travelled to Ohio, Massachusetts; he also went to Canada.. Chuck went to a lot of places.
Did he support any of the big name acts?
He played with the Sonny Thompson Band, Charles Brown, Bo Diddley and quite a few others.
When was your first child born?
My first child was born in 1952, but I lost that child
Sorry
I only have five children now, but we still consider him a part of the family
Did you consciously help your children to start playing musical instruments?
We didn't help them in that way. They heard their dad playing all the time. They picked up everything on their own. We didn't have to push them to play this, or play that. They all played what they wanted to play. My oldest son wanted to play trombone at first. He wasn't doing what he should've been doing, which is practicing, so his dad told him, "You're not even playing the trombone, so you might as well get rid of it." He wanted then to play the piano and that's what he started playing. Everything that the kids started playing they picked up on their own, because that's what they wanted to do since they were five or six years old.. Les wanted to start playing the drums.. He had been playing on everything in the house and hitting my kitchen pans so hard that I told him that "when he got older he had to buy me a whole new kitchen set".. He made himself a little drum set and started playing that.. So his dad got him a set of drums.. He was hitting them so hard that Chuck said, "Rene we've got to get him another drum set because he's tearing this one up". My other sons started picking instruments up and I said to Chuck that "these children are playing!" He said " I've got to sit them down and get them together." They even went out one time to a little club called Half Brown. They took all their instruments with them to play… They came running back "mom they liked us, they want us to come back. They gave us money, they paid us." They were happy. They've been playing music since they were very young. That's why they're so professional. They played with their dad and they learned a lot. They are just exceptional. They're great musicians. They've been playing now for over 50 years…
When did you decide to relocate to the west coast?
We left Pa for California in '72. We weren't planning on staying but we got here and we liked it so much that we decided that we weren't going back to Canonsburg, Pa, which is also the home of Perry Como. We took a family vacation and we never went back because we loved the city, we loved the state, we loved the weather and the beaches. That's what we did.
I'm reading between the lines but your sons would be in their teenage years when you moved to SF. Is that right?
Yes, that is right. All of them except for Ron finished their schooling in the Bay Area. They performed the whole time.
When you moved to SF was the band getting paid to perform?
Oh yes. They wouldn't play any place without getting paid because they always had crowds. My four sons played together and they had a wonderful band. As soon as they started playing the audience would be on the floor. They had sell-out crowds. As soon as their fans knew where they were playing they were there. Besides being known as The Edwards Generation, they had several name changes. Once as Genius, another time as One Guyy, and more recently as Movin'. They were the best band here in San Francisco and the crowds followed them everywhere.
Where did the name The Edwards Generation come from?
That came from Chuck CP
Was Chuck an Edwards or Edwins ?
He was an Edwins, but he thought that Edwards would sound more professional..
When you moved to SF the first studio that the group visited was Barry White's? Did you go to the studio with them?
I did. I was with them. That was in Los Angeles. It was good meeting Barry White; he was a great big huge man. He was amazing.
The first releases that The Edwards Generation released, were they self-financed? Was Ghetto Records a family label ?
The very first family record that was released was through Ghetto Records, which was based in New York City and financed through its owner/president George Febo.. The song was called "Someone Like You". Everything after that venture was financed through our own labels. One, which was Rene Record was named after me. There was also Punch Records and Tight Records.
In the 70's in San Francisco which groups did The Edwards Generation support?
There were quite a few name acts. They played with The Intruders, also War, did a show with Tower of Power, opened for ConFunkShun to name a few. They even performed with Taj Mahal at the world renowned Glide Memorial Church in San Francisco with the Reverend Cecil Williams.
The Edwards Generation never really split up because the members have continued recording separately. Was Chuck doing his own thing too after "Street Thang"?
He was doing his own thing. The boys were wanting to do their own thing too. They were growing up and you can't stop that. They were performing a lot. They went on tour oversees to Japan and Europe.
Did you continue performing too?
I still perform at times. I'm working on a CD now with my son Myron. I'm hoping to get that out soon.
I'm sorry about asking but when did Chuck pass away?
It was in 2001
For me it's very important that the first single released is the one song that we have that features Chuck on lead vocals, hopefully that will help with his legacy.
Yes it will because Chuck was well known back in the Pittsburgh area. He played a lot of places there. He played a lot of places in Cleveland, Ohio. Chuck played a lot of places. Then the children came up and they started doing their thing. Each one of them plays what they want to play. They do a great job of it. They can switch around on all the instruments. They can each sing too…
What surprised me about the thirteen songs that we've signed is that they're all really good songs! Your children are obviously very talented indeed who should have deserved a bit more recognition for their musicianship and the ability to write good catchy songs.
They're great musicians and beautiful writers. They've got a lot of material. Once the album is released other people will get to hear the music too. They're great performers too. Les is great on drums; Myron is great on the bass. They all know how to perform. All of them ! Jeff has a CD out and he's coming to London.