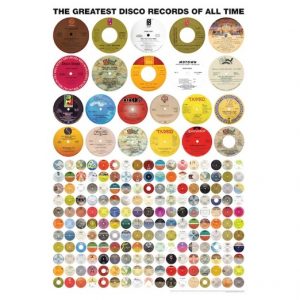 The original vote was conducted on www.faithfanzine.com in 2008 across a period of 5 weeks with a series of knockout stages before it was whittled down to the last ten. There was over 100+ people who contributed to reaching the final decision. I'm sure if we asked the same people again we'd get an entirely different result.
"Today we live in a world where Disco is the root of all dance music and is lauded on BBC 4 retrospectives, Radio 2 and the Sunday supplements. Disco grew up and finally it's been given the prestige it deserves, however it was not always this way. Let me take you back to my teenage Soul Boy days of 1975 when most of the kids who would create Punk were dressing up and causing heads to turn because of their fucked up take on vintage fashions. Americana looks from the Glen Miller jive era to 1950s American Graffiti lookalikes. The music was imported Black American Funk and early Disco, much of it very camp, and the best young dancers (black kids in their mid to late teens) danced without shirts and sweated in now legendary venues such as Lacy Lady, Crackers, 100 Club and Upstairs at Ronnie's. The D word though was seemingly ignored from most of the advertising. Roy Ayers 'Running Away' was a Loft classic in NY but in the south of England it was termed Jazz Funk. Many many other records that were 'Disco Classics' in the states were re-branded by the Soul Mafia (a self termed group of very powerful DJ's and promoters who had a stranglehold on the southern soul scene) as Jazz Funk. Jean Carne, Aquarium Dream, Idris Muhammed, MFSB, George Duke – all these cats made a 'disco' track on their LPs for the dancefloors, but for whatever reason the D word was always left out of promotions and advertising.
The release of Saturday Night Fever changed everything though. Suddenly there was bigger queues of people wanting to join in but without having a clue of how to act or dance. The 'Burn Offs' that naturally occurred in the sweat pits became organised dancing competitions that the BBC jumped upon and gymnasts and acrobats dancing to D.I.S.C.O. always seemed to beat the one decent dancer on display except when Crackers royalty Clive Clark won with an amazing display that had us all screaming in our front rooms in front of the TV as if England had won the world cup.
This Disco 'aversion' carried on in the early 80s. The word 'Boogie ' was used by black DJs and dancers in London to describe disco tracks being made by the likes of Leroy Burgess and the Universal Robot Band even though they were obviously just new disco records. The Soul Mafia carried on ignoring all new forms of black American music including Rap, Hip Hop and then House – in fact the soul mafia led by radio DJ Robbie Vincent and Essex legend Chris Hill had even spoken out against Disco at a NY seminar and the mixing culture that had built up around the repetitive beats. One thing was about to happen that would change the UK's general rule of Disco aversion (the music was played, loved and desired but don't use the D word .. ever ) and that was Acid House."
Terry Farley
1. Sylvester Over And Over (Fantasy) 1977
"10 minutes of perfection – ups and downs and all-sorts."
"Proper cramped/intimate vibes then hands in the air abandon all in the space of 30 seconds,over, and over again. The soundtrack to a gazillion towel thefts at the Baths."
"ALWAYS get lost in this for the full 10 minutes and I love the looseness of it."
"The perfect record…"
"Uno, dos, tres, quatro! THE disco record for me. Obvious maybe, but I love every second of this record. It has a subtle energy and I never tire of it. The DK edit is obviously the one and a genius remix of an already lovely piece of music."
"I seriously wonder what version of "Message" the MFSB voters voted for anyway? The original album version or even Moultons mix (with or without the 3 Degrees vocal) were both pretty bland and nowhere near as strong as countless other Philly numbers imo. It really has had very little relevance to the club scene here in the UK at anytime I can recall and certainly not back in the 70's when it was released – it still reminds me of the TV Theme to Black Beauty to this day. If anyone voted on the back of Krivits mix then its probably The Salsoul Orchestra's Ooh I Love It (Love Break) they should be voting for as Danny featured and sampled it so heavily in his remix. It might well be an obvious classic for New Yorkers who went to the Loft or The Garage in the 70's but Is it a worthy winner of The Greatest Disco Record? Not for me personally. I'm guessing there's been one or two transatlantic voters."
"I'm hooked from the syn drums at the start."
"The horns, the tempo and the voice do it for me in a massive way. Best in show."
4. Harold Melvin & The Blue Notes Don't Leave Me This Way (Philly International) 1975
"basically perfect orchestral disco and a blueprint for disco/house. This has to be the winner or it's a travesty."
"Just a shame it fades at the end just after it reached its peak."
"Proper head down, hands in the air classic. Gets me every time – RIP Teddy… "
"My favourite song when on LSD."
"Great song on the greatest disco label and that's before we get onto the suits…"
"Always a treat when i hear it out. salsoul at its best. soulful, funky, driving. they don't make them like this any more; more's the pity ."
7. Double Exposure My Love Is Free (Salsoul) 1976
"Great song on the greatest disco label and that's before we get onto the suits…"
"Always a treat when i hear it out. salsoul at its best. soulful, funky, driving. they don't make them like this any more; more's the pity ."
"Arrangement wise this is the best disco record of all time. The thunder at the beginning segues into the falsetto lead of Eddie vibe-ing the dropping of rain fall. Simply divine"
"Could have gone for something really clever here but sod it, this HAS TO BE the ultimate disco record of all time and it's special to me. Played it as the first dance at my wedding. We hired a proper fashing disco dancefloor (probably the best money I've spent in my life), which looked sheer white, danced slowly for the first 2:50 mins and boomp, boomp, boompboompboomp, the lights kicked in, massive cheer, everyone piled onto the dance floor and that was it for the about the next 8 hours. It was like a rave."
"Big Garage tune, it was almost certainly Walter Gibbons, rather than Larry that did most of the work on this.
– Black Ivory – Mainline (Buddah) '79
– Dan Hartman – Vertigo/Relight My Fire (Blue Sky) '79
– Dennis Parker – Like An Eagle (Casablanca) '79
–
Candi Staton
– When You Wake Up Tomorrow (Warner Bros) '79
– T-Connection – At Midnight (T.K. Disco) '78
– Don Armando's Second Avenue – Rhumba Band Deputy Of Love (ZE) '79
– Dinosaur – Kiss Me Again (Sire) '78
– Taana Gardner – When You Touch Me West End '79
– Candido – Thousand Finger Man Salsoul '79
– T-Connection – Do What You Wanna Do (T.K. Disco) '77
– Don Ray – Standing In The Rain (Malligator) '78
– Double Exposure – Everyman (Salsoul) '76
Air – Power Be Yourself (AVI) 1979 / Aquarian Dream – You're A Star (Elektra) '77 / Ashford & Simpson – It Seems to Hang On (Warner Bros) '78 / Atmosfear – Dancing In Outer Space (Elite) '79 / Ayx – Ayx Disco (EMI) 1979 /  Claudja Barry – Sweet Dynamite (Tom Moulton mix) (Salsoul) 1977 / Blue Magic – Welcome To The Club (Atco) '74 / Hamilton Bohannon – Let's Start The Dance (Mercury) '78 / Brainstorm – Lovin' Is Really My Game (Tabu) '77 / Brass Construction – Movin' (United Artists) '75 / The Brothers – Under The Skin (RCA) '76 / Ernie Bush Breakaway (Motown) '75 / The George Bussey Experience – Disco Extravaganza – (Atlantic) '78 / Candido – Dancin' And Prancin' (Salsoul) '79 / Cerrone – Love In C Minor / Chic – My Forbidden Lover (Atlantic) '79 / Chic – Dance, Dance, Dance (Buddah) '77 / Martin Circus – Disco Circus (Francois K edit) (Prelude) '79 / C.J. & Co – Devil's Gun (Atlantic) '77 / Commodores – Flying High (Motown) '78 / Norman Connors – Once I've Been There (Buddah) '77 / Crown Heights Affair – Far Out (De-Lite) '76 / Crown Heights Affair – Say A Prayer For Two (De-Lite) '78 / Curtis – How Can I Tell Her (Charm City) '79 / Sarah Dash – Sinner Man (Kirshner) '78 / Gregg Diamond – Fancy Dancer (Marlin) '78 / Lamont Dozier – Back To My Roots (Warner Bros) '77 / Eddie Drennon & BBS – Unlimited Let's Do The Latin Hustle (Friends & Co) '75 / Earth, Wind & Fire – Bad Tune (Warner Bros) '70 / Eastside Connection – La Cucaracha (Rampart) '76 / Eastside Connection – You're So Right For Me (Rampart) '77 / Ecstasy Passion And Pain – Ask Me (Roulette) '74 / Ecstasy Passion And Pain – Touch And Go (Roulette) '76 / El Coco – Cocomotion (AVI) '77 / Eruption – I Can't Stand The Rain (Hansa) '77 / Linda Evans – Don't You Need (Ariola America) '79 / Fatback Band – Yum, Yum (Gimme Some) (Event) '75 / First Choice – Armed And Extremely Dangerous (Philly Groove) '73 / First Choice – Let No Man Put Asunder (Gold Mind) '77 / First Choice – Love And Happiness (Philly Groove) '73 / Four Below Zero – My Baby's Got ESP (Roulette) '76 / Front Page – Love Insurance (Panorama) '79 / Taana Gardner – Work That Body (West End) '79 / Gloria Gaynor – This Love Affair (Polydor) '78 / John Gibbs – Trinidad (Solid Steel) '77 / Goody Goody – I Wanna Know (Philly Sound Works) '84 / GQ – Disco Nights (Arista) '79 / Damon Harris – It's Music Fantasy (WMOT) '78 / Isaac Hayes – I Can't Turn Around (ABC) '75 / Hidden Strength – Hustle On Up (Do The Bump) (United Artists) '75 / Eddie Holman – This Will Be A Night To Remember (Salsoul) '77 / Loleatta Holloway – Greatest Performance Of My Life (Gold Mind) '79 / Loleatta Holloway – Dreamin' (Salsoul) '76 / Jimmy Bo Horne – Spank (Sunshine sound) '78 / Thelma Houston – Saturday Night, Sunday Morning (Motown) – '79 / Thelma Houston – I'm Here Again (Motown) '77 / Al Hudson & The Soul Partners – Spread Love (ABC) '78 / Jackson Five Forever Came Today (Motown) '75 / Michael Jackson – Just A Little Bit Of You (Motown) '75 / Debbie Jacobs – High On Your Love MCA 1979 – The J.B.'s – Georgia Peach (Disco Drive) '79 / Norma Jean – High Society (Bearsville) '79 / Norma Jean – Saturday (Bearsville) '78 / Juggy Jones – Inside America (Jupiter) '76 / Tamiko Jones – Can't Live Without Your Love (Polydor) '79 / Tamiko Jones – Let It Flow (T.K. Disco) '76 / The Joneses – Sugar Pie Guy Mercury '74 / Kat Mandu The Break Unidisc 1979 / Eddie Kendricks – Girl You Need A Change Of Mind (Tamla) '73 / Evelyn King – I Don't Know If It's Right (RCA) '77 – Gladys Knight And The Pips – It's A Better Than Good Time (Walter Gibbons mix) (Buddah) '79 / Kongas – Anikana-O (Barclay) '73 / Patti Labelle – Music Is My Way Of Life (Epic) '79 / D.C. LaRue – Cathedrals (Pyramid) '76 / Wilbert Longmire – Black Is The Color (Tappan Zee) '78 / Love Unlimited Orchestra – Love's Theme (20th Century) '73/ LTG Exchange – Corazon (Fania) '73 / Cheryl Lynn – Got To Be Real (Columbia) '78 / Machine There But For The Grace Of God RCA 1979 / Skip Mahoaney & The Casuals Running Away From Love Abet 1976 / Mass Production – Cosmic Lust (Cotillion) '77 / Van McCoy – The Hustle (Avco) '75 / Janice McClain – Smack Dab In The Middle (Warner Bros) '79 / Arnold McCuller – Nowhere To Run (A & M) '79 / Francine McGee – Delirium (RCA) '77 / Harold Melvin & The Bluenotes – Bad Luck (PIR) '75 / Harold Melvin & The Blue Notes – The Love I Lost (Tom Moulton mix) (PIR) '73 / Harold Melvin & The Blue Notes – Prayin' Source '79 / MFSB – Sexy (PIR) '75 / Bette Midler – Strangers In The Night (Atlantic) '76 / Stephanie Mills – Put Your Body In It (20th Century '79) / Moments – Nine Times (Stang) '76 / Moment Of Truth – Helplessly (Roulette) '75 / Melba Moore – You Stepped Into My Life (Epic) '78 / Idris Muhammad – Could Heaven Ever Be Like This (Kudu) '77 / Walter Murphy – Fifth Of Beethoven (Private Stock) – '76 / Musique – Keep On Jumpin' (Prelude) '78 / Nature Zone – Porcupine (London) '76 / Ivan Neville – Dance Your Blues Away (Cookie) '79 / O'Jays – Darlin' Darlin' Baby (PIR) '76 / O'Jays – For The Love Of Money (PIR) '73 – O'Jays – I Love Music (PIR) '75 / O'J'ays – Put Your Hands Together (PIR) '73 – One Way featuring Al Hudson – Music (MCA) '79 – The Originals Down To Love Town (Motown) '76 / Gene Page – Satin Soul (Atlantic) '74 / / Phreek – I'm A Big Freak Atlantic '78 / Phreek – Weekend (Atlantic) '78 / Teddy Pendergrass – I Don't Love You Anymore (PIR) '77 / Teddy Pendergrass – The More I Get The More I Want (PIR) '77 / Teddy Pendergrass – You Can't Hide From Yourself (PIR) '77 / People's Choice – Jam, Jam, Jam (All Night Long) (Tom Moulton mix) (TSOP) '76 / Plaza (Got My) Dancing Shoes (Sidewalk) '79 / Pockets – Come Go With Me (Columbia) '77 / Pointer Sisters – Happiness (Planet) '78 / Positive Force – We Got The Funk (Turbo) '79 / One Way featuring Al Hudson Music (MCA) '79 / The Originals Down To Love Town (Motown) '76 / Don Ray – Got To Have Loving (Polydor) '78 / The Real Thing – Can You Feel The Force (Pye) '78 / Sharon Ridley – Changin' (Tabu) '78 / Rinder & Lewis – Arabella (AVI) '79 / Rinder & Lewis – Blue Steel (AVI) '79 / Ripple – The Beat Goes On And On (Salsoul) – '77 / Diana Ross – I Ain't Been Licked (Motown) '79 / Diana Ross – The Boss (Motown) '79 / David Ruffin – Walk Away From Love (Motown) '75 / Rufus & Chaka Khan – Any Love (MCA) '79 / Salsoul Orchestra – Catch Me On The Rebound (Gold Mind) '78 / Salsoul Orchestra – Ooh, I Love It (Love Break) (Salsoul) '75 / Salsoul Orchestra – Getaway Salsoul '77 – Salsoul Orchestra – Salsoul Rainbow (Salsoul) '75 / Sarr Band – Magic Mandrake (Calandar) '78 / Lalo Schifrin – Jaws (CTI) – '76 / Rena Scott – Super Lover (Buddah) '79 / Dee Dee Sharp Gamble – Nobody Could Ever Take Your Place (PIR) '77 / Silvetti -Spring Rain – (Salsoul) '76 / Dooley Silverspoon – As Long As You Know (Seville) (Who you Are) (Seville) '75 / Skatt Bros – Walk The Night (Casablanca) '79 / Skyy – First Time Around (Salsoul) '79 / Slick – Space Bass (Fantasy WMOT) '79 / Lonnie Liston Smith – Expansions (Signature) '75 / Gino Soccio – Dancer (Warner Bros) '79 / South Shore Commission – Free Man (Wand) '75 / South Shore Commission – We're On The Right Track (Wand) '75 / Silver Convention – No, No Joe (Jupiter) '76 / Space – Carry On, Turn Me On (Vogue) '77 / Candi Staton – Victim (Warner Bros) '78 / Donna Summer – Heaven Knows (Casablanca) '78 / Donna Summer – Our Love (Casablanca) '79 / Sylvester – I (Who Have Nothing) (Fantasy) '79 / Taste of Honey – Boogie Oogie Oogie (Capitol) '78 / Tavares – Heaven Must Be Missing An Angel Capitol '76 / Ted Taylor – Ghetto Disco (TK) '77 / Tempest Trio – Do You Like The Way It Feels (Marlin) '79 / Three Degrees – Giving Up, Giving In (Ariola America) '78 / Harry Thumann – Underwater Baby (Ariola) '79 / The Trammps – Stop & Think (PIR) '75 – Trussel – Love Injection (Elektra) '79 / Two Man Sound – Que Tal America (Miracle) '78 / Two Tons Of Fun – Just Us (Fantasy Honey) '79 / Ujima – I'm Not Ready (Epic) '75 / Voyage – From East To West/Point Zero (Sirroco) '77 / Village People – Fire Island (Casablanca) '77 / Miroslav Vitous – New York City (Warner Bros) '76 / Barry Waite & Ltd – Sting (Leo) '74 / Dexter Wansel – Life On Mars (PIR) '76 / War – Galaxy (MCA) '77 / The Whispers – Planets Of Life (Janus) '70 / David Williams – Come On Down Boogie People (AVI) '78 / Karen Young – Hot Shot (West End) '78