Afrodisia were a band that formed in Worms, Germany in 1978 and ran through to the mid 1980s. The band's leader was Darnell Stephen Summers and was formed featuring a cross collective of US Germany based soldiers and local German musicians. They released one album 'Elephant Sunrise' in  1980 on Comma Records which features the phenomenal 'Sugar Free.' We are proud to be re-releasing this album in March 2018.  Cordial Recordings will also be releasing an unissued album from 1981 towards the end of 2018, which features 'Malik' the first single from the group. On the flip for the first time on 7″ vinyl is the soulful funk bomb in 'A Fool No Longer,' which was originally featured on rock compilation 'Rock Aus Der Alten Schule' in 1981. We interviewed Darnell to capture the history of himself and the band.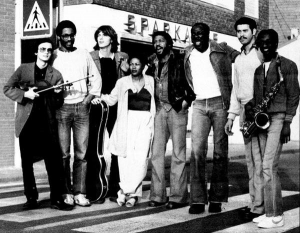 Darnell you were born in Detroit, but which year were you born?
I was born in July 1947 in Detroit, Michigan. What's interesting is that it's a couple of miles from the Ambassador Bridge and the Ambassador Bridge goes over the river to Canada. Had my mother just gone across the bridge I'd be Canadian. Detroit is a border town and I didn't recognise the significance of that until actually just recently what kind of dynamics are involved in being a border town. Certainly in retrospect when I think about my early life the fact that we lived near the border with Canada played a very significant role in my life.
Are you the eldest?
Yes I'm the oldest. My brother and I are born eleven months apart. When I say that to people they raise their eye brows, "we're not a year apart we're eleven months apart." He was born in June 27th 1948 and I was born 9th July 1947.
Did your parents introduce you to music?
Yes initially. My mother she had a plan on how she wanted to educate her children. She's from Louisiana, a place that's rich with musical history. She did not want her children to grow up in the Jim Crow segregated south. That's what motivated her to come up to Michigan. My father came up first and she followed him. She had a plan and part of that plan was I guess was undoubtedly give us a good cultural education. We were fortunate to go to a private Catholic school and get an academic education. My brother and I were lucky to learn the piano during those years.
When was Bill's introduction to percussion?
That's a good question! There was a guy by the name of Emmet, I don't remember his last name. We moved from Detroit in the early 60s to the suburbs and a place called Inkster. We moved into a new house and we had a fire place there in the family room. My brother was friends with a guy by the name of Emmet and Emmet had a penchant for going to house parties and bringing his bongos along. He was friends with my brother. One day I noticed that my brother had a pair of bongos' right there at the fire place. Emmet must have had a tremendous impact on him. I think that it was at that point we were in our early teens, maybe a little bit earlier, maybe my brother was 13 or 14. I just remember those bongos being on the fireplace. Bill played the piano, but he got into playing the flute, that's another long story. He got so good that he was going out to the clubs of Detroit and playing underage in the clubs with a couple of other underage guys from the neighbourhood. I used to drive him around. He became a pretty good player playing the flute. He had good success at doing that while in High School. To make a long story short after High School he went out to California and continued to play the woodwinds. He picked up the saxophone also and continued to play the flute. From there he went on to New York to play on some recordings with the Bar Kays. He had his instruments in his car and somebody broke in to steal his instruments. From that point onwards he went into percussion 100% that's how I understand the story. It wasn't until the 70s when he concentrated on being 100% a percussionist.
Did you ever play together in a group?
Not until I came to Germany and formed my own group. I'm trying to think now. Had we ever played together, no we hadn't. We didn't collaborate together until around 1980 when Afrodisia were doing an album, which was our second album or what we wanted to be our second album. He'd already had success with the Headhunters and all of that. He came over and we asked him to play on the record, which he did. That was the first time that I had the experience and pleasure of collaborating with my brother on a joint project. After that he played with my band and I also accompanied him on certain projects that he had.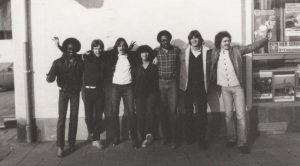 Going back to the 1960s an important stage of your life was when you joined the army. What age were you then?
I was 19. Is Paul Hardcastle British? ("He is!" Cordial reply) He did that song '19.' I'm the proverbial 'nineteen.' I fit into that niche of nineteen year olds that fit into the military. I wasn't patriotic I want to make that clear. I had a girlfriend in Detroit and we broke up. She got a new boyfriend. Detroit wasn't big enough for her, her boyfriend and me so I left. I thought that the best way out was to join the United States military. I was leaning towards that not for being a patriot, but that was the sign of the times. There was something that was driving me to be there and witness it. I did in fact witness it. Those were the circumstances that I went into the military with so many soldiers that were looking for a job, some training, they didn't have a home, their hearts had been broken or whatever. There's so many different scenarios. None of them have anything to do with patriotism. I was just one of the guys who went in because of a broken heart.
How long were you in the army for?
I was in the army for four years with thirteen months of that in prison. That's another long story. I don't know if you want to get into that right now!
You were stationed in Vietnam?
I came back from Vietnam in handcuffs. There's lots of twists and turns to my story. I was an ardent anti-war soldier and I wasn't alone. There were a lot of soldiers against the war. It pretty much reflected what was going on in the streets of the world where you had all those demonstrations. Some soldiers supported it and some soldiers didn't. I was one of those soldiers that didn't support it. You must remember that Muhammad Ali refused to go into the military. That debate was raging in the military. "Do you support Mohammed or don't you?" I supported him and other soldiers did too, white black, Latino and Asian. Others didn't. That was going on also.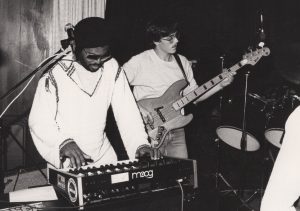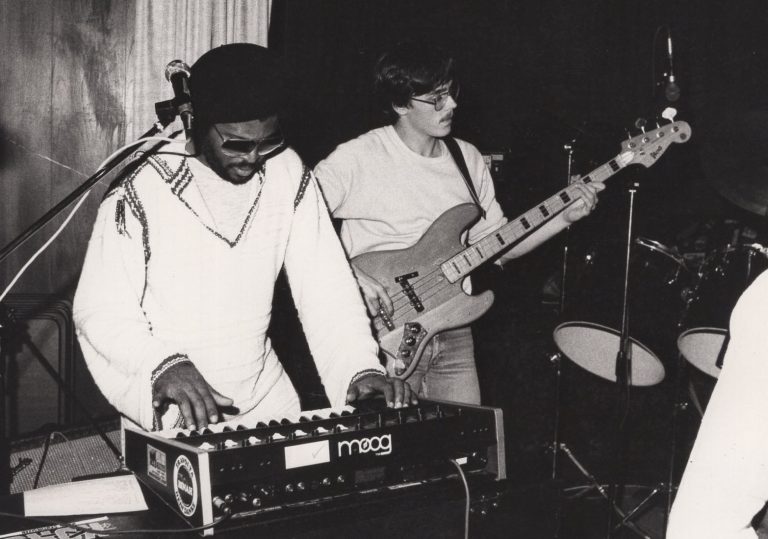 Were you discharged from the Army?
I got an honourable discharge December 10th 1970. I was stationed in Fort Carson, Colorado. When I was in detention I was charged with a civilian murder that I didn't commit. I was supposed to have killed a police agent while I was home on leave before I went to Vietnam. They were just trumped up charges. I eventually came out of prison and the MPs were right there to bring me back to the Army with no loss of rank or anything like that. I went out to Fort Carson. I was chairman of the  'Racial Harmony Council' out there which was having tremendous social and racial problems. I was elected to be the chairman of that Council for the whole post of 25,000 soldiers. I left that post like I said December 10th 1970 after spending four years in the United States military.
When you left the Army in 1970 did you get involved in Music again? Did you start playing?
I went through periods were I didn't consider myself a musician. I was like I did that as an adolescent and took me into my teenage years, to the military. I never thought about doing it professionally. That was the mould that I was in. Once I got out of the military I went back to Germany where I had met my first wife when I was stationed at Kaiserslautern. So I was there and I was looking for things to do. I saw my brother with his tremendous success with becoming a household name as a jazz percussionist or as a percussionist overall. I considered what could I do with music and that's when it began when I came back to Germany where I decided to pursue a professional life in music. It started here.
What year was that?
That was 1972. I had played in bands in the States. One was called the Other Side. I moved to Germany in 1972 that's when I started considering pursuing a professional career in music.
When you moved to Germany did you find yourself a local German band to join?
Yes I did. They were called Last Exit and were from Worms, Germany. I played keyboards and was the lead singer for the band who were a rock band because I like rock music. You can't put me in a corner with anything especially music. I have some very broad diverse tastes when it comes to music. So when I had the opportunity to sing in a rock band I really jumped at it.
Did they release any records?
They did. I left the band and then they did a record. We did some recordings together but nothing that's been released. In fact with 'Elephant Sunrise' we have fans out there that are prepared to spend big money to buy a vintage copy. I've seen figures of $320 for one album, but Last Exit have a record out there that people are prepared to pay $600 for their album. There's something about playing music in Worms adds to your musical credibility I guess.
When did you leave 'Last Exit'?
1973 or something like that.
Where were you living then? Was it close to Frankfurt? 
In Worms, which is near Mannheim. It's about a forty minute, but depends on how fast you drive, from Frankfurt and about a 20 minute drive to Mannheim. I left Last Exit somewhere at the beginning of '73. I was in the band for a kind of a while. Then after that in '73 I went back to the States. That's where I took that experience to form a band, a local band in Inkster, Detroit called The Other Side. We never had the intention of dropping everything and pursuing that. There was never an idea of turning that into a professional undertaking. It wasn't until I went back to Germany in '77 that I pursued a career in music. It was at that point again that I really really wanted to start my own thing and we did. In 1977 I formed Afrodisia when I returned to Germany from the States. From '73 til '77 I was in America with my family.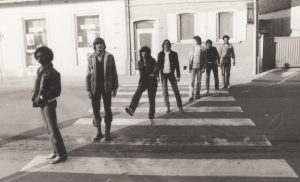 How did you form Afrodisia? Where did you find the other members?
We had a rehearsal spot which was in an old school in a suburb of Worms. Last Exit practised there and all the other musicians practised at this old school that the City had made available for us to practise in. We redubbed it the Rock Haus. In that particular context I started to rehearse there with some musicians and it just grew until we finally decided that we would have a band. A friend of mine that I knew from Wiesbaden who was in the military came up with the name. We were looking for a name. He was like "what about Afrodisia?" We said "great." So we took that name. We didn't even name the band somebody else did. We couldn't come up with a name but I'm glad that he came up with that name. At the time we didn't have a guitar player. We had a dynamite bass player, dynamite drummer, singers and all of that. A friend of mine by the name of Frank Steinhauser, who lived in the area, came to me one day and said "know some guy that might fit into your band. I think that he would be willing to come and try out." I think he mentioned that he was 15 years old and suddenly my jaw dropped. I said to myself "how good could this guy be?" He came into the rehearsal, he was called Michael Koschorreck, and he was all nervous, really nervous. He was trying to set up his amplifier, his guitar and all the things that go along with that. He was very nervous and tripping over himself, but when he started to play we just looked at each and said "this is the guy!"
Michael was a wonderful player, just brilliant for that age. We were pleasantly surprised and that sealed the deal. Then we had Michael Koschorreck on guitar. Some of us were in the Military, some of us were musicians and the other half of the band were teenage young German guys. It was a hell of a human experiment. It was a juggling act. That's how we got started. What's really interesting is that we said at some point that we really have to play somewhere. We only had about six songs. We sent out recordings to different clubs. The thinking was that we could send out this tape and that by the time that we get a response we would have more songs. It didn't actually pan out that way because we almost immediately got a response from a very famous club in Frankfurt called the "Sinkkasten", which was a sought after venue to play for a lot of upcoming musicians. They would also have some headline acts play there too, some very famous people there. Lo and behold we sent out this tape of just our practices and they responded almost immediately that we can have a gig. They offered us several dates. We told some of the other musicians at the Rock House and they were flabbergasted because they would have wanted to play there. They couldn't understand how it was that we got that gig. Then when we went to the "Sinkkasten" I said to the owner "why did you select us?" He replied "we get a lot of demo tapes and they're pretty much polished, right, but when we heard your tape we knew what we were getting." That taught me a great lesson. I don't know whether it's a lesson that a lot of club owners of today have learned, but for me if anybody is going to read this interview just be real with your performance tapes. Give them the ones from the practise cos they'll like that. We were genuine and they knew what they were going to get and they got that.
Was that in '77 or '78 when you first started gigging?
You'd have to ask Michael but I think that it was '78.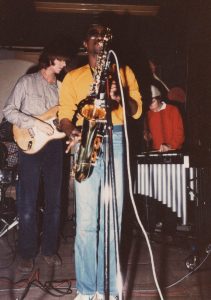 As a band did you perform all over Germany after then?
Eventually we went to Switzerland and to a very famous jazz club in Basel. We were in a lot of famous places. We did television. We did a lot of things that young bands wanted to do. We travelled. We were at festivals and those sort of things. We played at the oldest jazz club in Germany called Cave 54 in Heidlelberg. We were like the house band almost where we played 14 or 15 times. We were a big band too. Sometimes we had 13 or 14 people on stage of a moderately sized bathroom. We were a sight to behold with so many members and things going on.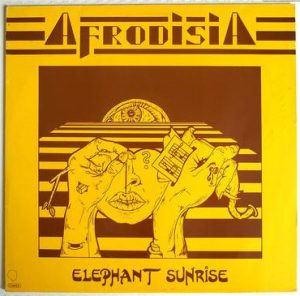 How did your 'Elephant Sunrise' come about?
We would almost always record the rehearsals and gigs as a rule. As I mentioned before we got  our first gig by virtue of a rehearsal tape. After a while we got into 4-track recordings. I owned a 4 track reel to reel Tape Recorder. We were learning about the recording process, producing, mixing, composing etc., but in the end it was realized that to get a more professional sound we'd have to go to the studio. The outboard equipment was beyond our reach. Not like today where everyone has a more or less has a high quality home studio with plugins galore and cheap compared to then. We also had a burning desire to document what we were doing. The consensus was that we should try at least and try we did. We had an assortment of some songs in our Repertoire, 99% originals, to select from.
Did you find the label first or did the label find you?
We were playing with a Afro-American singer by the name of Betty Dorsey. She'd released some records with Comma Records. We saw that as an opportunity to use that connection to have a record company. We were young to the business. In fact we didn't know anything about the business. We were the backing band for Betty Dorsey who had a contract with Comma Records. We took that the opportunity to ask the owner could we go on your label. "Of course!" For him it was just about getting the money. He didn't sign us to an artist deal or anything. This was going to be a one shot deal more or less. We didn't take it too seriously. What he did do was have it released in South America. At the time you could release it for anybody on the planet to buy, but it was just Germany as far as I knew. Of course when you release a record in Germany you're releasing it in Europe more or less, but he took the record to South America which turned out to be a very good move because years later we started getting communications from people enquiring about the personnel on the album like myself and Michael, we got a communication from a record store owner in Bogota who said that he grew up listening to ˜Elephant Sunrise.' You love hearing that, but then you try and work out how did this happen? Well this guy from Comma did that. It seems that our record and you can describe it as being obscure, most definitely. It's like I don't know how many bands recorded records in that period of time from the 60s to the 80s with the hope of getting some exposure. We were very naïve  about a lot of things but there was this dynamic going on because it was released in South America.
We got a series of communications from South America asking about the record and they're still asking to this day. In fact another record company contacted me last week about the record. Testimony to that is how you became introduced to the record which was that you were at a party and somebody put on our record. The chances of that happening is one in a million. That's how life is. Another thing for people reading this, don't ever dismiss the prospect of people recognising something about what you're doing. Stay true to yourself. Of course today it's a great thing if a DJ hears your record and wants to take things out of it to do something with it that's a great thing.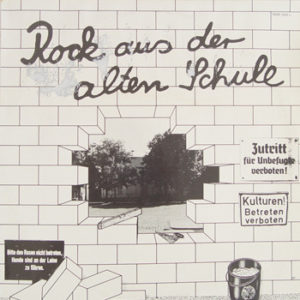 'A Fool No Longer' which is the song that I first heard, how did that end up on the rock compilation?
Well the city wanted to shut us down, the Rock Haus that is. It was a former elementary school. They weren't doing anything with the building. They allowed bands to move in and divvy up the place for rehearsals. Allegedly people in the neighbourhood were complaining about the noise, rejecting the lifestyle and music or whatever. The city decided that they would move to kick us out. If I remember somebody in the press heard about that and another person came up with the idea to do a sampler to showcase the art that was coming out of the Rock Haus. That's how it happened. Everybody connected with the Rock Haus had a chance to have a song on an album sampler, which was going to be used to promote the Rock Haus and force these people not to kick us out. That's how it came into existence. As a result of that one of the major German TV stations came down and we were on television with this song 'A Fool No Longer.' Someone just recently told me that they have a copy of that and we're going to track that down too. We always had songs that had some social commentary to them. That's basically the kind of guy that I am. Even if I was to write a love song I would want it to make a statement, not to preach to people but at least they would come away from the song with something.  'A Fool No Longer' is straight ahead and the message is clear. I think that message still holds true today about not being exploited. What's your life all about? What can we do? What's the quality of life? I'm from Detroit and I know people that have worked in factories for 30-40 years, retired, then 3 or 4 years later they're dead. That's they're destiny. In Detroit I know people that had two jobs. They made good money. They can buy a house in five years. You've got your house but you can't enjoy it. The song 'A Fool No Longer' speaks to the dilemma of being exploited and what to do about it.
The unreleased album, which will soon be the released album, when was that recorded?
That was recorded in '81. Wait a minute. It was after we recorded 'Elephant Sunrise' of course. If I remember correctly 'A Fool No Longer' provided the impetus because we already had the first album and now we got the second release with the album sampler, which chronicling the music of the Rock Aus. So we were in that mode then. The next thing was after 'A Fool No Longer' had given us a new life we had to record some more. When I was talking to Mike recently, our former manager, I had to talk to him about dates that we were in the studio. At this particular point we didn't have a scribe detailing our dates so we're left to our memories. It was sometime in '81 that we recorded the material.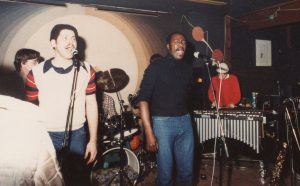 What was the reason that the album didn't get released?
Money was the main reason. We did some demo tapes, but it was just a question of money. It's not like today where I have some very expensive equipment at home, with some good microphones, as many tracks as I need, experience and all of those things that we didn't have then. So you had to pay other people just to do a demo. I know people who paid people exorbitant prices just to have a demo. They're in a studio and it costs x amount of marks per day. It just goes on and on and on. That was the main reason. Plus the fact that I got arrested in February 1982.
When you got arrested in 1982 was that when the band broke up?
No, no, no! They went on. Other singers came in. Amy Zahedi and Susanne Grawe. We had a keyboard player named Christian from Worms, who is a very fine keyboarder. The only person that was replaced was me actually. Other people came in and did a fine job. Afrodisia was becoming a household name in the music scene in Germany.
When did Afrodisia break up eventually?
Eventually! I don't know exactly. Let me tell you what happened. We had other projects that we were running out of Afrodisia. We kind of ran with some other things like Johnny Otis and the Box. A lot of guys that were in that band were from Afrodisia. We had the 'Just Say No' posse , which involved a lot of people from Afrodisia. We went on playing together, we just didn't go on playing in the formation of Afrodisia, but as musicians we were still playing together. We went into the 80s playing at different festivals as Afrodisia. I remember playing at Worms Jazz Festival in the 80s. I know it sounds strange, but I'm not sure when we actually broke up. The thing is that band actually retired but we didn't. We just kept doing things together. You couldn't present Afrodisia without the personnel. It just wasn't happening.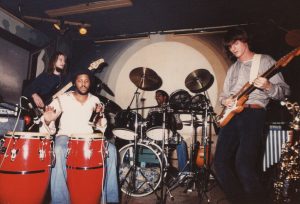 So you continued with other projects!
Yes right. We made it to Billboard with 'Just Say No.' I never expected that because we didn't make a million dollars, but 'Just say No' landed on President Bush's desk. We sent him a copy. We kept doing things together and some things that had international acclaim in certain circles. Then of course Michael Koschorreck and other band members branched out with relative success. Not without controversy, but we still work together to this very day. There's a bound there that exists.
Going kind of back to the beginning you're an ardent anti-war campaigner today. Was that something that remained from your army days or is it something that's grown over the years?
Roual from when I joined the military I was anti- war from the beginning. I don't want to make that special because I wasn't the only one. Back then we had the draft and a lot people didn't want to go there because they didn't want to put themselves in a position of dying. So me going to an anti-war demonstration before I went in didn't necessarily have to be anything unusual. I'm sure that it happened to other people too. We had a lot of people coming in who just got drafted, they got press ganged into United States military, but they had anti-war sentiments. So I was not alone.
Where do you consider your home Germany or the USA?
That's a good question because I've often thought about that. I've spent my whole life on the planet. My orientation is that the planet is my home and that I should be able to go anywhere. Set my feet on any piece of ground and feel at home. This is my orientation. I know that's not possible at this point, but it's the way I'm thinking. Having said that I'd have to say that Germany is my home. It's a big part of my life experience, but I'm also in contact with my roots. Those two things seem to merge quite well. In the first instance I'm a citizen of planet earth and having said that I told a friend of mine once that I was thinking about the conditions of the planet. I told Zam Johnson, my friend, that "the earth must be the asshole of the universe!"he looked at me and said "yes! It needs to wipe its arse." I sometimes half joke that if I could leave here I would. Just to see if there's anything better out there. People are living longer. There must be other planets doing a better job of co-operating and building something. I know that it sounds crazy but I'd like to think that something out here in the universe is getting it right. That's my idea. I may sound crazy but that's where I'm at. Do you have a spaceship?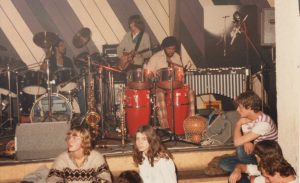 I can try and find one!
Then we can ride out tonight!
Do you think that there's ever a chance to get Afrodisia together again to perform live?
Oh Yeah! How would we do that? Our driving force, Michael Koschorreck, Â is here in Germany and available, if and when. In addition to Michael we have another dynamite guitarist, Mike Priebe, who lives in the states. We have two bass players in Europe. One is in Switzerland and one is in Mannheim. Then we have the first bass player, John Rainey, living in Maryland. Their eyes light when we talk about it, but when you think about the logistics of just the decision of whom I'm going to go with just the bass players. You've got to go with John Rainey because he's the first one and a great bass player or do I go with Hans Herr, a fantastic player who played bass on 'A Fool No Longer' and 'How High Is High.' You've got Hans Neber who's another brilliant bass player and who also recorded on some of the yet to be released Afrodisia songs. Each one with their own distinctive style. You could do a tour with just the three of those guys. You'd be surprised with what they can and would do.
 If you pick one and don't pick the other you're in trouble for the rest of your life. I don't relish being in that position and having to make that decision. Stefan Traub, Vibraphonist lives here in Germany. We don't have 3 or 4 keyboard players or guitar players, but our bass players along with Kevin Austin, out of  New York and the third drummer to play with Afrodisia, are the backbone of the group. Ingo Marte, another fine drummer who appears 'Elephant Sunrise' and lives in New Jersey. Jerome Durant on Sax lives in the states appears likewise on 'Elephant Sunrise.' I'd be remiss if I didn't mention our other members, Starchild-Bass, Gerald 'Moonchild' Draper-Drums, Jurgen Mueller-Percussion/Drums, Delaware 'Big John' Johnson-Vocals(RIP), Dennis Betts-Vocals, Stefan Gerbig-Percussion, Rickey 'Coffee' Simmons-Percussion/Vocals, Michael Mahla-Violin. We also have two fine supporting artists who have contributed over the years, Jon Otis-Percussion/Vocals/Drums and Lori Hamm-Vocals both out of California.
We've got some great men and women and undoubtedly they've improved over the years, ready and able to scale new heights. We're trying to reach out to everyone who, at one time or another, performed with Afrodisia. A daunting task, to say the least. If the opportunity presents itself to play we will definitely meet the challenge. We have enough firepower on the stage, no question. It could go nuclear.
The first single is 'Malik' on Cordial Recordings. Can you please tell us what the song is about?
My first son is Andre Stephen Malik and my other son is Malik Miles Pablo. I put Malik in both of their names as a tribute to Malcolm X. That was his name when he went to Mecca, El Hajj Malik El Shabazz. El Hajj means that he made the trip to Mecca, the Pilgrimage. I just wanted to honour Malcolm by putting his name in both of my sons names. This song tells a story about being born and "growing up in the motor city, so nuff hard time Mississippi, people out in the street don't have enough to eat" are the lyrics there. What's interesting with that song is when I listen to it I start to remember what the thinking was because we start right away with a verse and then it kind of builds up. It's telling a story and what's so surprising is that it's so relevant today. The whole struggle is ongoing. It's unfolding around the world and not just in America with discrimination, oppression and the like. Living from day to day with daily struggles and all those different things. A lot of what we're doing has social commentary.
It's unfortunate that on one hand it's still that way, but on the other hand we're fortunate to be able to be relevant in some way. I'm curious about when people do hear the songs on what level will their impressions be, because every song, every picture and every book has a message. There's nothing that's devoid of some kind of message, something that you can derive from it. Even with an instrumental there's something there and hopefully people will appreciate what we're trying to convey in our music. About "How High Is High," which you've heard, that was written by a friend of mine. There was a discussion about the thrust of the song, its meaning. What we're saying there is "look what you're doing, you're altering your state of mind and what does it mean? You're asking a philosophical question. Everybody was kind of laughing that you're smoking a joint whilst you're singing this song. We had discussions about that, how "How High Is High" is anti-drugs. It's not. It's telling the truth and you can decide to do what you want to do and this is the situation.
"The Bottle Or The Bean,
It's a Chemical Dream,
I'm asking You Why,
How High Is High?"
Whether you're drinking or whatever, sometimes that can stand in the way of your perception.