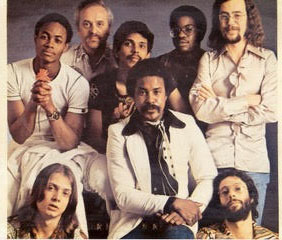 Cordial Recordings are proud to be partnering Mel Canady with the release of two previously unreleased songs from his 1970s group Ruby & The Mudflaps. 'Is That Enough?' came from the same recording session as 'Breezy,' which was released in 1977 on Jupiter Records and has recently been re-released in 2017 by our friends at Cree Records. On the flip of our Cordial Recordings 7″ is a live take of a song written by Mel called 'Country Girl,' which was a popular song for the group at the time of their existence. We are excited to be working with Mel to record and release a new album in 2019. Please keep an eye out of our social media sites for further details.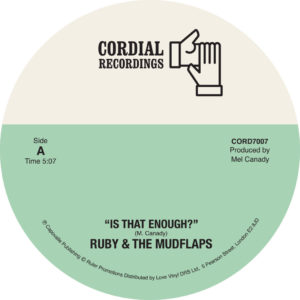 Mel you're originally from Alabama?
Yes deep south, Alabama.
What was your introduction to music?
Actually it was of course as it was with most artists from the area it was the church and there was a couple of guys who played instruments when I as 12 or 13. I was in a vocal quartet. One of the older guys would accompany us when we did gigs. It was basically the church and a couple of guys on the corner playing blues. The old cliché I actually experienced that.
At that point you didn't play a musical instrument! That came later in life.
That came much later. I of course picked up every instrument that I saw, just to see what it felt like. I actually started playing an instrument seriously about 12 years ago because growing up we couldn't afford to buy a piano or that kind of stuff. I was lucky enough to get to college and whilst I was there singing in the college choir I formed a quartet in my very first semester when I was 19 years old with piano. I met a lot of musicians then and I got a scholarship to study natural science, but I got hooked up in the jazz scene of Greenwich Village in New York. In 1970 I got drafted to the army and have since spent most of my entire adult life in Europe where I was able to connect with musicians right away. My natural love of music and being around guys who could play actually taught me. I didn't really start with reading notes or writing music for musicians until much later. The whole process in terms of musical evolution took place in Europe, but like I've said before you don't ever get too far from your roots. What I learned as a child with music has stayed with me and I keep up with it as I grow older.
Didn't you go to the same University as Fred Wesley?
Fred Wesley was in the army at that time and he was playing with a group on campus, a fantastic group. In fact I talked to Fred about a year ago when he played Munich about those times. I think it was around the fifth semester and I was on summer break in Long Island, New York. Whilst I was there James Brown was performing at the Westbury Music Fair where Fred was playing with James Brown. He also became later the band leader and arranger with Maceo Parker, they were actually the power behind the JBs. We had fun talking about the old times.
You came to Europe in 1970! How long were you in the army for?
I was in the army for three years. I was one year in the United States and two years here. When I finished I remained in Europe. Things were going a different way for me.
What was the attraction to Europe for you?
Germany especially. For me Germany is a safe, clean, fair, non-violent progressive and modern country. I fell in love with the whole idea of being here. It's just what I need to do what I wanted to do. I was able to learn a lot of stuff here. I learned a lot of stuff in different fields. I did other jobs when there wasn't enough jobs for singers or if you liked going on tour or doing a musical so I took other jobs as a sales man for consumer electronics as an example. I did that on and off for 35 years. I did have record offers, but there's a strange mentality with the music that I wanted to do, that I can do, that suits me if you will has nothing to do with the way that people see music here. Music has a completely different function and is motivated for reasons that I don't find legitimate, but I'm living here so I can't complain about it. At the same time I didn't sell out, wear certain clothes or make myself look this way or that way. I don't want to insult anybody but I have to stick by my guns with that one. If people want to have a blues singer then i'm the guy. I won't do this modern pop commercial stuff, for me it's boring.
Who were the first group that you joined or formed after you left the army?
The first real group that I put together after jamming for three or four years in one club with changing musicians so the band never really got together. I was doing that for a while. Then a guy named Mike Thatcher, god bless his soul, asked me if I'd be interested in joining a pop choir. That group was called Family Tree and we had eleven singers with seven musicians. It was a huge production. After that died down we started a new group because we were all inspired by Buddy Miles, Blood Sweat & Tears, Chicago, James Blood Ulmer and Earth, Wind & fire of course. We put together a kind of jazz rock band more in the sense of Blood, Sweat & Tears but with a black singer. We were brainstorming about the name of the band with finding the name that would fit the kind of music that we were doing and with the way that we were dressing on stage, etc. After about two hours and around 25,000 beers somebody said "why don't we call ourselves Ruby & the Mudflaps!" That was so funny at the time, so atypical. The problem started when people called me Ruby!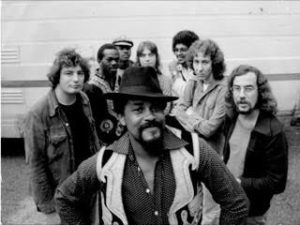 You released one single in 1977 with 'Do The Boogie.' How did that come about?
It started out when I did a German cover of Carl Douglas' 'King Fu Fighting' and then I had the idea to record the tunes that I had written which were 'Breezy' and 'Country Girl.' Those two songs were submitted to Ralph Siegel, but they decided to go with a song that was written by Keith Forsey, who later became billy Idol's producer. He was also the drummer in my band for a while. Keith had a song called 'Do The Boogie.' The record company decided to put that as the A Side with 'Breezy' on the flip. That meant 'Country Girl' never officially got recorded. It's been on ice since then. We played at least half of the repertoire with our own material. It was a mixture of pop, soul and jazz if you will. I hate names, for me it's all rock and roll. In the course of putting together a programme for concerts we had to work in clubs, so we needed a longer repertoire just to survive financially. We had to play the clubs and in those clubs we had to play at least four sets. It was a cool gig if there was only three. In the course of putting that programme together we would sit in the rehearsal room and write our own songs. We eventually had around fifteen songs with 'Is That Enough?' was one of them. It was also very personal because I was in an unhappy relationship as it always is with the blues.

At the time the label thought that 'Breezy' was too soulful for the German market and so therefore didn't take up a follow up single.
No they didn't. We did one single as Ruby & The Mudflaps with Jupiter Records which was an associate label of Ariola at that particular time. We got requests, but the record didn't sell very well at all. This is what I meant before about the German music and all that with I cannot expect them with an audience here to understand that kind of music because classical music dominates over here and classical music has a different feel. It's about different things such as a lot more notes to be precisely and the emotional part usually gets cut short. Beside that at that particular time you had groups like Santana, Chicago Transit Authority. Blood Sweat & Tears and over a hundred horn groups. The record company was right that if they could only sell 3,000 copies over all of Germany with Earth, Wind & Fire there was no way we were going to top that with no matter how good we could play. They were the ones on the radio. The radio play I got was with German songs or pop stuff because I worked years later as a studio singer. I was in a group of six people and we'd go from studio to studio backing other artists. I must be on at least 50-60 albums.
Back in the 70's you were also in Donna Summer's first group! Is that correct?
We were in a couple of groups together where we toured live. I met Donna after she'd done a tour with Hair. We were all over the place doing gala concerts with a big band and we also worked in the studio together in '75 or '76. Donna had the hit 'Love To Love You Baby' that was produced here with all local musicians and then of course she left to go to Los Angeles. That was the end of that.
When did Ruby & The Mudflaps split up?
We split up after around 3 or 4 years because musicians kept leaving the band because it was very difficult to support a band that size. We were eleven people, with two guitarists, four horn players and all that. The girl that was singing with us called Lucy Neale decided that she wanted to go back to the States. She got a contract with a female vocal group that was very successful. So musicians kept leaving the group and I kept replacing them with other guys. There was probably over 50 guys that have played with the band in various formats. The spirit of the band was Michael Thatcher and when he left it wasn't the same without him so we decided to change the name of the group to Royal Flush, Rock Candy and so on. They were basically the same format. My idea was always four rhythm, four vocalists and four horns. We were a very hip band and we played most of our own material. You know how it is it gets lost over the years. We were lucky that what we're doing here is that Lucy still had all the old tapes. I'm in the process of trying to make contact with all the musicians that are living to invite them to Germany to perform once again with the band.
We met up in December last year in Munich and we agreed to work together on some new recordings. Are you enthused about working on a new set of songs?
I'm very very excited. I'm ahead of myself and I've got to slow down because I'm getting so excited about this project. I get up in the middle of the night and I write a set of lyrics. Then the next morning they suck! I'm very excited about this and especially about playing the songs live again.
You're an accomplished songwriter!
I wouldn't say accomplished. I would say that I keep trying. I received recently a small royalty statement from Gema over here for 'Breezy.'
When did you first become aware of 'Breezy' becoming popular on the soul scene in Europe?
Around three years ago a guy from Frankfurt approached me to enquire about Ruby & the Mudflaps. They wanted to do a production but it never took place because we were too far away. They didn't seem to have the right spirit or the right drive. That just kind of died out. I was surprised because I went on the internet and saw that somebody had uploaded 'Breezy.' I watched it every now and again. I thought that this is nice. Then I got another call from Merten at Cree Records about 'Breezy.' Then six weeks later you called. That's when I thought that maybe something could happen. Just to think that I could leave something for my grandchildren is enough motivation for me.